The SNES Classic Mini comes with 21 stock games. Learn how to easily add more SNES games to your SNES Classic using hakchi2 with our easy to follow guide. The 21 preinstalled games and system data uses about 250mb out of the 512mb of flash storage available; leaving you with over 250mb of storage to add more games. This tutorial will show you how import and run SNES ROMs on your SNES Classic.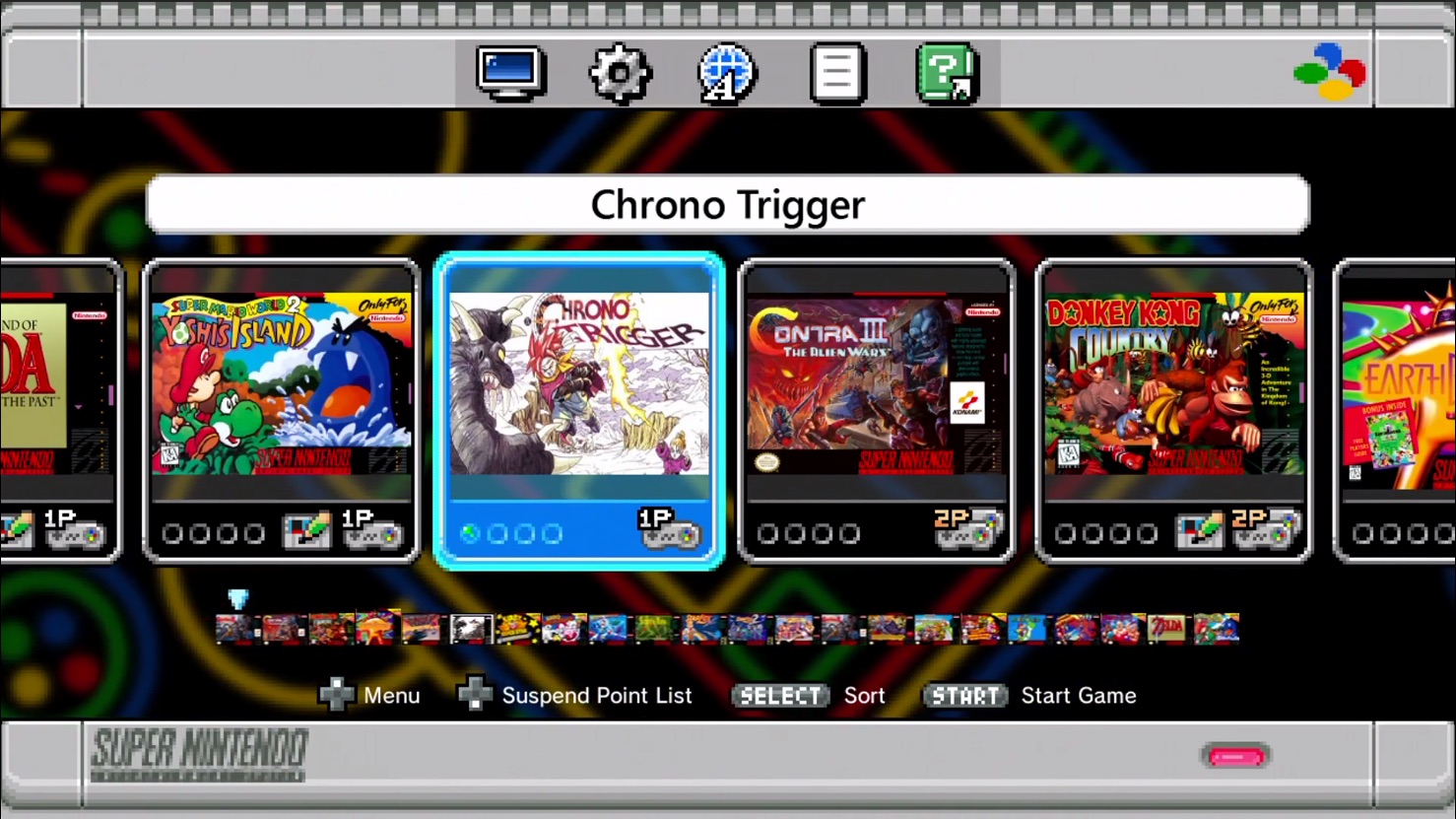 We will be using hakchi2 CE to sideload more games to the console. The updated tool is super simple to use compared to our older tutorial found here.
If you are interested in playing games from other consoles (like Nintendo, Game Boy, Sega Genesis, and more), you will need to install RetroArch.
Before we begin:
This tutorial uses a computer running Windows. If you are using a Mac, follow our guide here before you begin.
---
How-to Add More SNES Games to Your SNES Classic
1. Download hakchi2 CE (hakchi2_CE_#.#.#.zip) and extract it to your computer.

2. Open the extracted hakchi folder, run hakchi.exe, and select your console.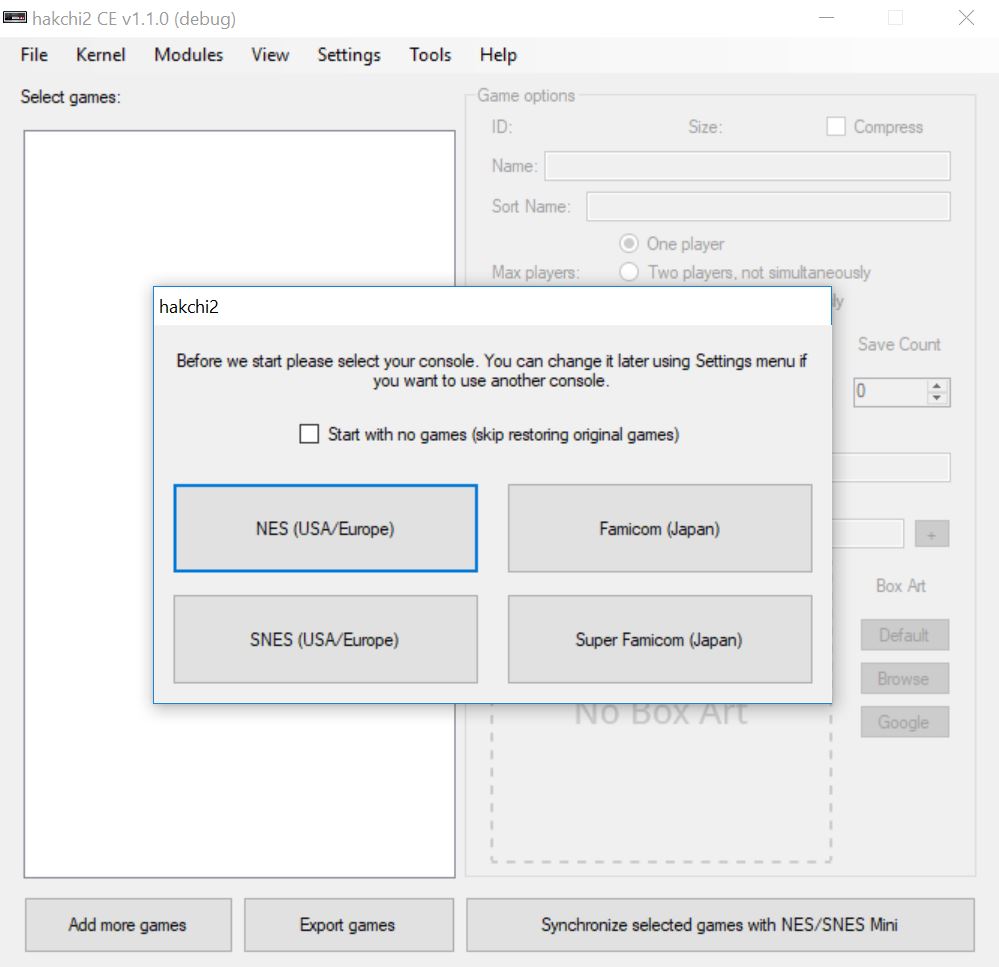 3. Go to Kernel > Dump kernel and hit Yes.

4. Now follow the steps on the screen - connect your console to your computer, hold down the reset button and turn it on, and then release the reset button after a few seconds. You will also need to Install driver if this is your first time.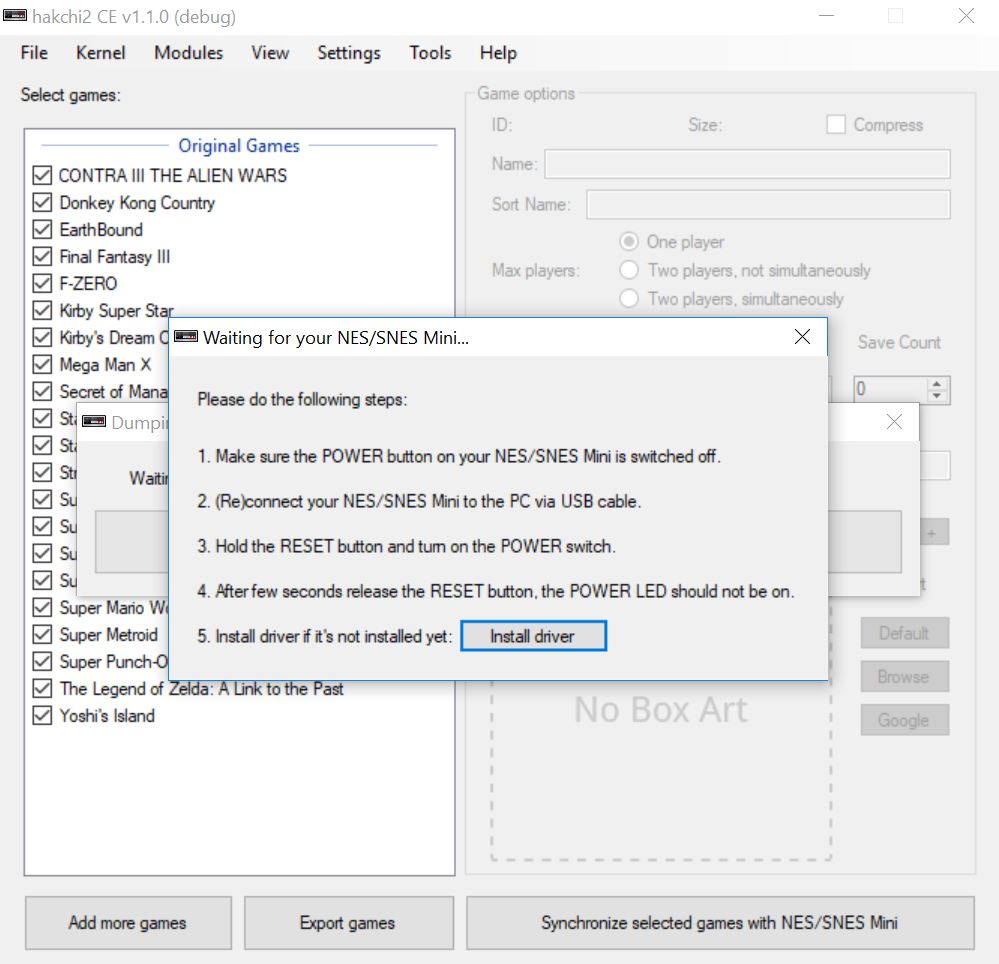 5. After the process is complete, a new folder named "dump" will appear in the hakchi folder. Inside this folder is a backup of your SNES Classic data in case anything goes wrong. We recommend you back up this folder and keep it safe.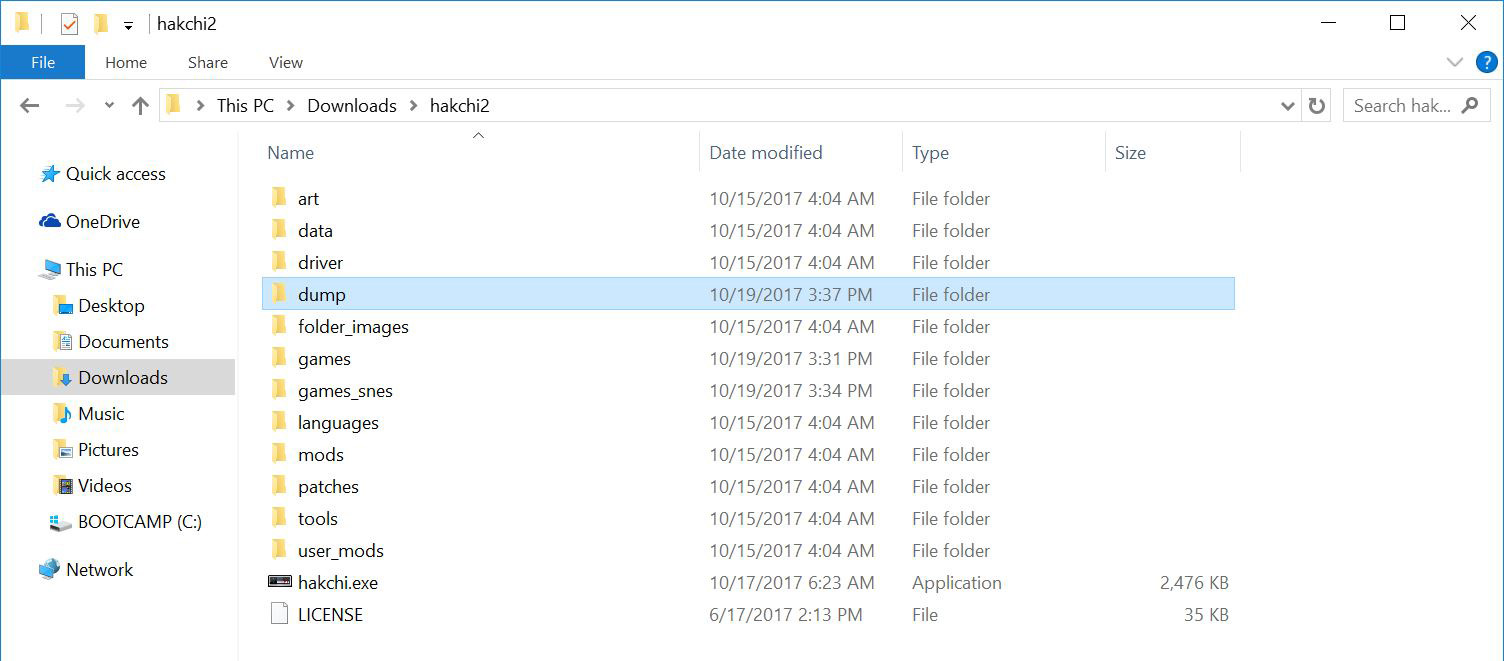 6. Press Add more games and add the ROMs that you want to sideload to your SNES Classic (you can add multiple ROMs at a time).

7. [Optional] Highlight all of the games you added and right-click and select Download box art for selected games or you can select an individual game, press Browse, and add your own custom box art.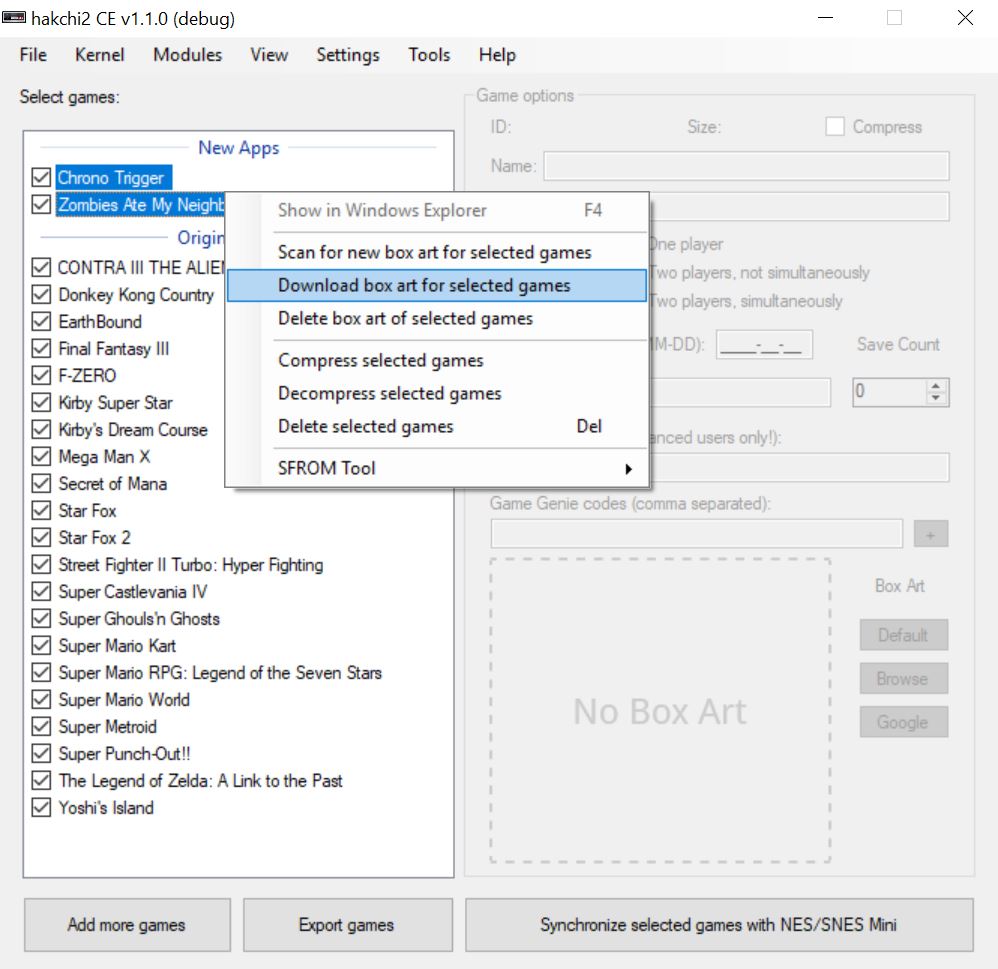 8. Now press Synchronize selected games with NES/SNES Mini.

9. Press Yes when prompted to flash the custom kernel to your NES/SNES Mini. Follow the instructions on the screen.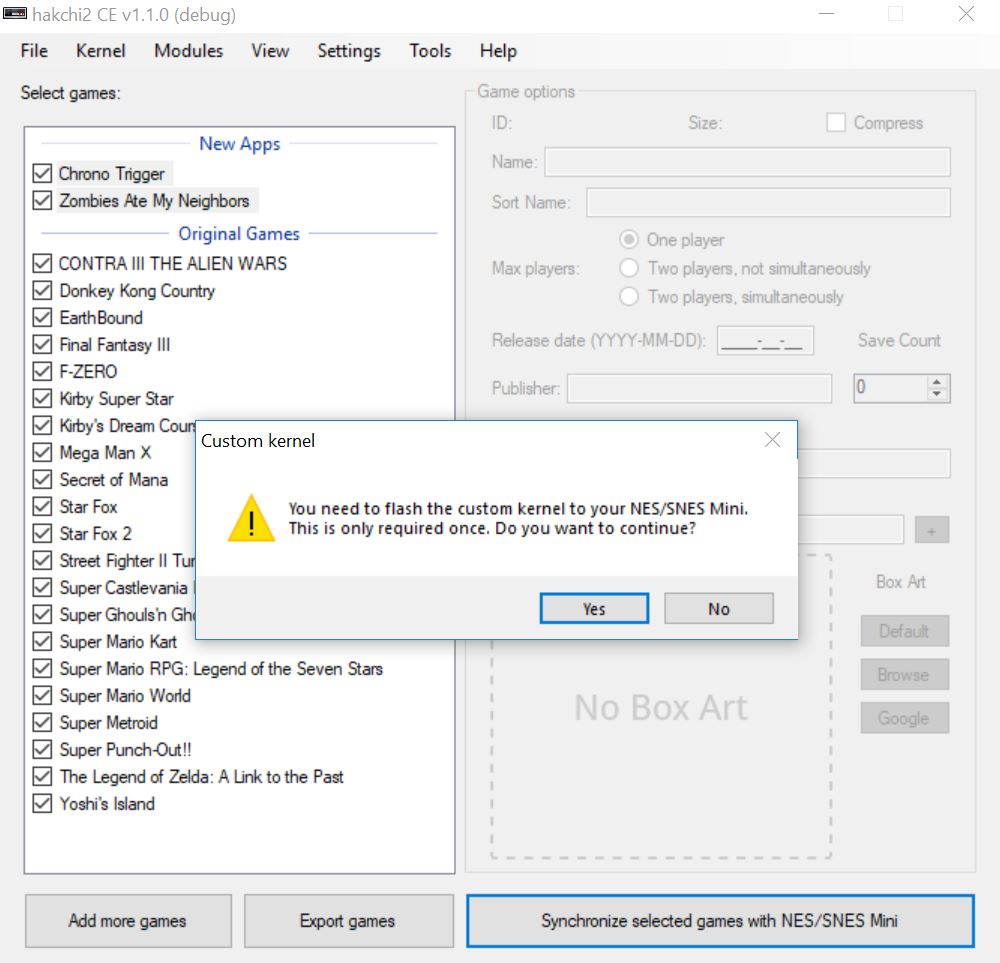 10. Once it's done flashing the custom kernel. Press OK to continue.

It will now begin to upload the ROMs to the device. You will now be able to play the added games on your SNES Classic.
To add more games in the future, simply hit Add more games and then Synchronize selected games with NES/SNES Mini.
---
If you have any questions please let us know in the comments field.